Shamanic Extracts
The 100% MYCELIUM KIT Stronger, More Stable, More Mushrooms, More Trips and way more value for your money!
100% Mycelium Kits are produced by Super Grow. These magic mushroom grow kits of the Psilocybe cubensis contain 1.2 liter of 100% pure mycelium and will guarantee an enormous harvest of fresh magic mushrooms (800 grams is average). Together with the Mycelium Kit you will receive a 'Filter Bag' for the ultimate growing conditions. Now a large number of different strains of the Psilocybe cubensis available. It can't get easier than this.
The Super Grow kit is completely different from standard growkits. Our growboxes are made with a new special technology so you have 100% mycelium and so 100% results. STANDARD growkits have 70 PERCENT or more FILLERS like perite! You don't need to soak your kit before the first flush. The special designed "Filterbag" provides fresh clean air circulation and will help and a healthy exlosive growth of magic mushrooms.
Grow your own Magic Mushrooms with these 100% Mycelium Kits by Super Grow. All kits are filled with mycelium only and will guarantee a large harvest of fresh magic mushrooms. These kits are very easy to grow.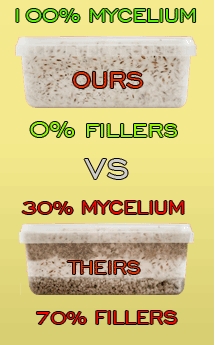 News




Monthly Newsletter !



.

Secret products




.

Huge discounts




.

Members only




.

Free coupons




.

Free products